Erskine's Special seasoning by Texas Sausage Company is a special one to us.  It has been used by my family for years and now we would like to share it with you.  This seasoning really does go good on anything!  It is great on Briskets, both Beef and Pork Ribs, Steaks, Pork Chops, Veggies, Jerky, and anything else you can think of.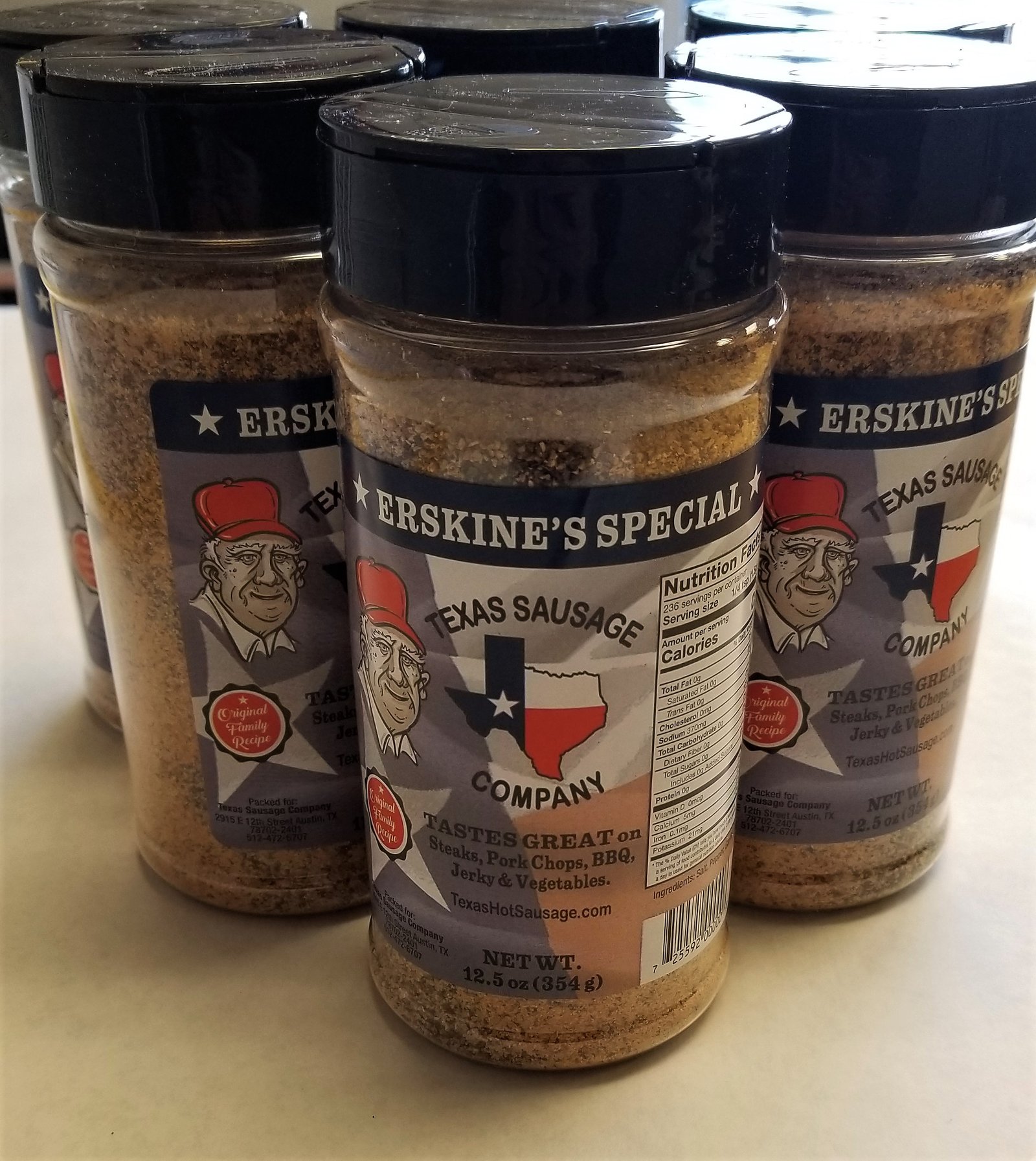 The Story Behind "Erskine's Special"
For as long as I can remember, I have put "Erskine's Special" on almost all that I ate. Only, it wasn't in a special bottle with a label. It usually was in some type of recycled plastic bottle or even a ziploc baggy.
Erskine was my Grandpa who passed away at the age of 88 in 2017. My Grandpa started taking me hunting when I was only 10 years old and I was with him when I shot my first deer. I was then fortunate to be on a hunting lease with him, my dad, and my cousin for many years until he passed away. My dad always told my Grandpa that the only reason that he was on the lease was because he was a good cook, and that he was. (He was also a very good hunter even at 88.) He always brought his "Erskine's Special" and put it on virtually everything. When asked where he got the recipe, he always responded that it was a "family secret." Each year, he would make up batches and give it to family and friends at Christmas.
Luckily, he passed on his secret recipe to us before he passed away.
Even though it doesn't have any "secret ingredients", it does have the exact mixture of the ingredients to make it special. It really does go great on just about everything. It is especially good on steaks, pork chops, homemade potato chips, jerky, and veggies. If you need a good rub for BBQ give this a try as well. We have smoked many cuts of meat using only this seasoning and it comes out great every time. I hope that you enjoy it as much as we do.
Scott Fiebig
Owner — Texas Sausage Company
Contact information
2915 E. 12th St. Austin, TX 78702
512-472-6707
512-472-9360
Business hours
Monday-Friday 8 a.m.-3 p.m.
Saturday 8 a.m.-1 p.m.
Sunday Closed